Watch PROMO VIDEO of the 2022 conference.
The next conference takes place in April 2024.
The 2022 annual Green Circle NY – Israel Foodtech Bridge Conference is presented in partnership with the following:
---
The NY – Israel FoodTech Bridge Conference brings together startups, scientists, investors & industry to support cross-border collaboration.
Date, Time, Location
Thu, April 28, 2022
9:00 AM – 5:00 PM EDT
Cornell Tech Campus in NYC
The conference at the Cornell Tech Campus in NYC provides educational content and a meaningful networking opportunity for Foodtech startups and scientists with investors, commercial partners, major food companies, and vendors.
Sessions in New York City will cover topics such as raising venture capital, commercializing products and going to market, intellectual property strategies, and connecting startups with crucial vendors and partners. (Israeli startups who make the trip will have an opportunity to meet with leading VC and Strategic Foodtech investors in Manhattan on Wed. afternoon, April 27th, the day before the actual conference. Some will also have an opportunity to make brief presentations on the main stage on the day of the conference).
Questions? Please note that this event is SOLD OUT. We will no longer be able to provide entry, ticket exchanges, or refunds. For all other questions, please email Francesco Lorenzetti at [email protected]
---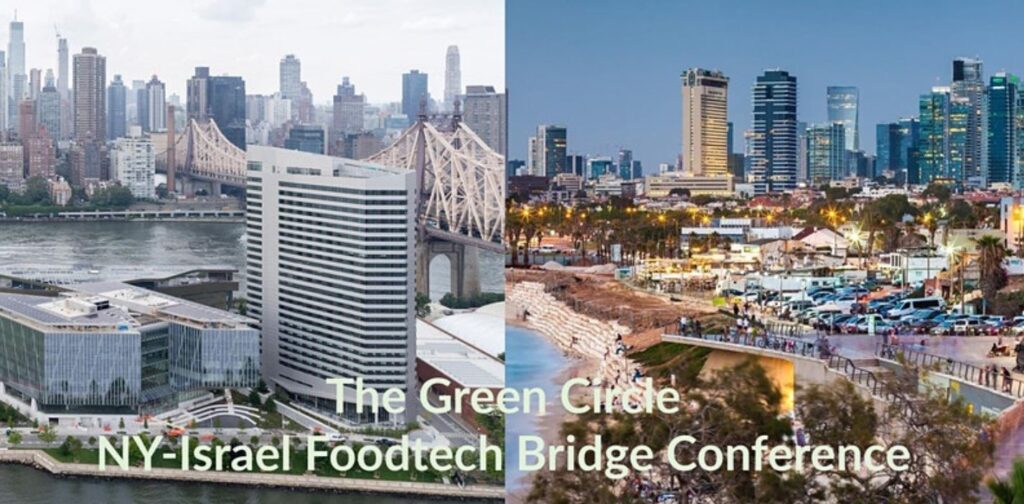 ---
Other Information:
Read about the conference in a recent feature in FORBES magazine.
* COVID INFORMATION: In the event of cancellation due to Covid all tickets will be refunded in full (except for modest handling fees charged by Eventbrite). Also, NYC requires that people 18 and older are required to show identification along with their proof of vaccination to enter events.
** LODGING: Attendees are encouraged to arrange for their own hotel accommodations if visiting New York City. However, if you would like to stay at the Cornell Tech facility's hotel on Roosevelt Island, you will receive 15% off of their Best Available Rate using the Promo Code NEGCOR on their website:
---
Gold Sponsor
---
Silver Sponsors
---
The following is a partial list of investors and commercial partners joining us:

---
WHEN: The NY-Israel Foodtech Bridge conference will take place onThursday, April 28th, from 9AM until 5PM.
WHERE: The Verizon Center at the Cornell Tech Campus, 2 West Loop Road, Roosevelt Island NY, 10044. Roosevelt Island is best reached by subway, but also easy to get to by Taxi (via the 36th Avenue Bridge in Queens), Tram (at 59th Street & Second Avenue Station). By subway, take the F train to the Roosevelt Island stop. Cornell Tech Campus is a 4-5min walk south from the Roosevelt Island Station. After exiting the subway station, head southwest on West Road towards West Main Street. Continue Straight on West Main Steet. Once you reach North Loop Road, Cornell Tech Campus will be directly in front of you.
WELCOME COCKTAIL EVENT Wed., April 27th, from 6-8:30PM: All attendees of the Conference (who purchased tickets) are also invited to a complimentary cocktail happy hour to take place the evening before the conference, on Wed. April 27th, from 6-8:30PM at Chelsea Music Hall, 407 West 15th St. off of 9th Avenue. The venue is across the street from the Starbucks Roastery and below the Chelsea Market. Only paid conference attendees will be admitted, and no other guests.

WHAT: Content for the event includes four panels including industry-leading experts, brief remarks from several other notables, as well as fifteen three-minute presentations by Israeli startups seeking funding and commercial partners in the US.
REGISTRATION: The doors for the event open at 8AM on Thursday April 28th. To be admitted your name must be on the list. If you purchased a ticket(s) on behalf of someone else you must inform us and provide us with the correct attendee name(s) at least one week in advance of the event in order for them to be admitted.
FOOD & REFRESHMENTS: Vegan and vegetarian breakfast and lunch will be served (with food from our sponsors, Hormel Foods, Rich's Foods and Pepsi). Coffee and beverages will be available all day, as will packaged vegan/vegetarian snacks, donated from various supplier brands.
COVID: The Cornell Tech Campus adheres to all NYC regulations in regard to Covid, as well as those imposed by the parent university. As of today, all attendees will be required to show proof of vaccination and wear a mask at the event. Should the University loosen restrictions, so will we, in accordance.
HOW TO MEET PROSPECTIVE INVESTORS AND COMMERCIAL PARTNERS: At the conference there will be two 45-minute "speed dating" sessions for Foodtech startups to utilize to meet with potential investors. There will also be a speed dating session for startups to meet potential commercial partners who can help them commercialize and scale food products in the US.
HOW TO MEET SOMEONE AT THE CONFERENCE: In the afternoon, there will be five small, private meeting rooms available for attendees to utilize in order to meet with other professionals. These rooms may be reserved at the event and will also serve as a meeting place for folks to find each other. There is nothing to do until the day of the conference.
PRIVATE MEETINGS BETWEEN COMPANIES AND INVESTORS: These meeting will be conducted on an invitation-only basis, and hosted by our sponsor, Covington & Burling law firm. If you have been invited to participate in the curated and private meetings between investors and companies, that session will take place the day before the conference, at "Company Ventures" (yes, you read it correctly). There is also signage there for Grand Central Tech. The address is 335 Madison Ave. between 43rd and 44th, near Grand Central Station. Every person who is attending MUST be on the registration list in advance or they will not be admitted to the building (due to Covid-related restrictions). Once you arrive in the lobby, take the escalator on your right to the second floor. Please arrive ON TIME at 1:30PM on Wed. April 27th. There will be a brief introduction and orientation presentation from our sponsor Covington and instructions for conducting the meetings.
ATTENDEE REGISTRATION AND ADIMITTANCE: To be admitted to the welcome cocktail event or the main conference you MUST be on the list. If you have a friend or colleague who did not DIRECTLY receive this email, and believes they should be on the list, please have them notify us immediately. If you purchased tickets for other people we must be notified at least one week in advance as to whose name you want those tickets transferred to, or they will not be admitted. Thanks for your understanding and cooperation.
FAREWELL HAPPY HOUR: 5-7PM Thursday April 28th, directly after the conference. A farewell happy hour wrap-up gathering will take place immediately after the conference at the Panorama Room of the Graduate Hotel, right next door to the conference center. Come and enjoy stunning views of NYC from the 17th floor, trade contact info with new friends and associates, and say goodbye (until November in Tel Aviv!)